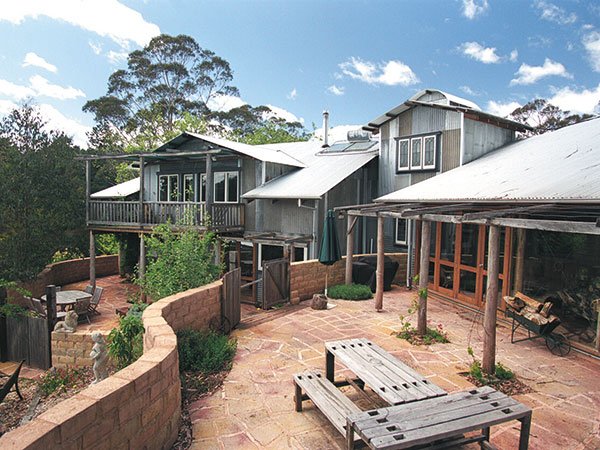 Old Leura Dairy - The Perfect Reward for your VIP, CEO or Incentive Prize
...is leading the way in Australia's luxury, boutique, eco accommodation; offering a unique and exclusive travel experience in the beautiful World Heritage Blue Mountains. Nestled in the quaint village of Leura you are central to all the rugged beauty, attractions, dining experiences, pampering and shopping that the upper mountains have to offer. The eye of an artist appears throughout our wonderful, intimate and sensitive sanctuary.
Come & experience Old Leura Dairy
...where our goal is for our guests to leave taking "something" with them; an experience, a memory, an inspiration, a dream.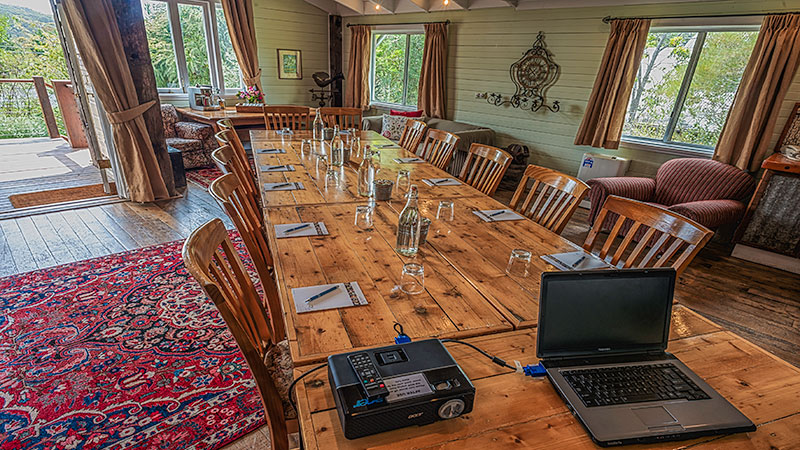 Old Leura Dairy is a multi-award winning corporate retreat which has been featured extensively in media both locally and internationally. We are a unique, eco certified property; assessed carbon neutral as well as a 'Climate Action' business you can be assured we will meet the needs of your corporate green mandates.
Whether for management forums, business development, strategy planning, team building or facilitated seminars we have all the facilities to meet your needs.
Designed for maximum flexibility the chameleon-like attributes of our property allow for 3 quirky meeting rooms, each offering something special, for up to 24 delegates. Old Leura Dairy consists of 6 gorgeous dwellings which offer a range of exceptional accommodation, meeting and break-out spaces. Set in beautifully landscaped native gardens this tranquil environment will induce relaxation and open the doors for fresh ideas, growth and creativity.
Old Leura Dairy is expansive enough to offer you exclusive use of all facilities and therefore ensure your complete corporate privacy. Flexibility is paramount in our product packaging, from the organisation of your complete program including facilitation, award winning catering and equipment, to entirely "do it yourself".
With extensive experience in event management we have organised hundreds of corporate retreats at Old Leura Dairy. We understand the stress and demands of organizing the 'perfect' retreat. From the Executive team through to frontline staff, producing 'something different' as well as providing a professional yet relaxed environment for delegates is what we here at Old Leura Dairy excel at. We can assure you this incredible property will surpass expectations of even those most hard to please.
We have 6 gorgeous lodgings, each with their own distinct personality, on one piece of beautifully landscaped land.
The option to stay in one dwelling or stay in them all allows for groups of various sizes to enjoy time together. Our comfortable beds can be used for 2 people either as a king size or twin. Here comes that word – versatility! From 1 – 30 people we are the perfect fit.
The Straw Bale House and Moo Manor are the perfect venues for gathering, celebrating and sharing. "Do it yourself" in the fantastic kitchen or spoil yourselves and have your get-together catered for by our award winning catering team.
Activities, special needs, events and menus can all be catered for. Ask us to help plan your perfect celebration.
Have a look at our hot tub with a difference. Great place to catch up with old friends!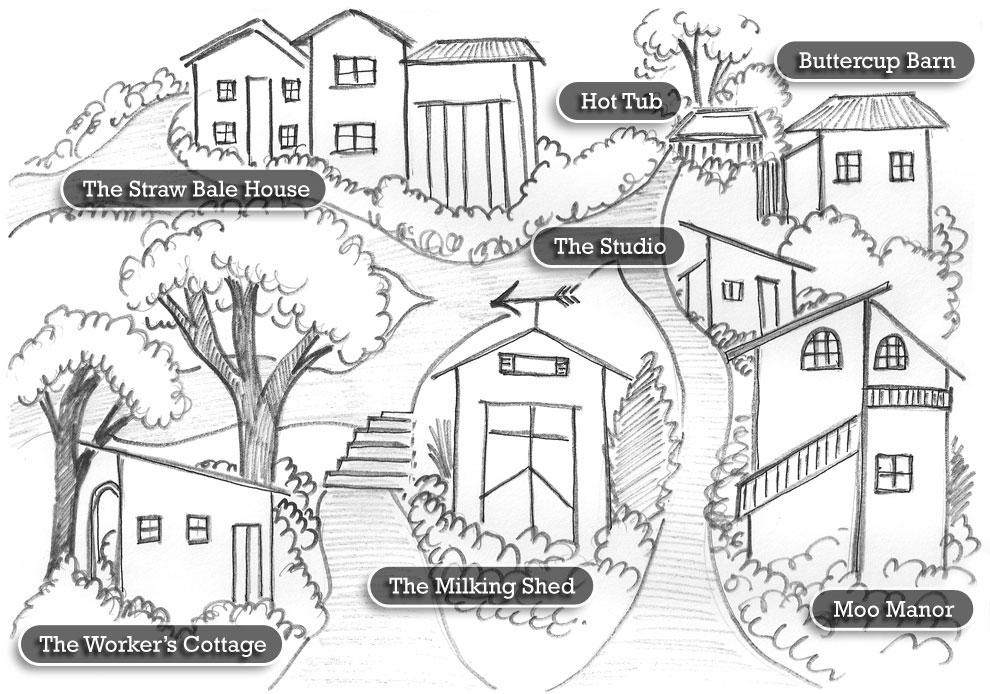 The Straw Bale House is a masterpiece of ingenuity. It consists of 5 bedrooms - each with a king size bed or 2 single beds, and 3 bathrooms. The Straw Bale House sleeps 11.
Welcome to the Straw Bale House! The passive solar design of this magnificent house and the half metre thick walls made of straw ensure warmth in winter and cool in summer. 80% recycled materials add beauty and character of a unique design. Timbers from an old jetty on the Parramatta River, the luggage rack from a 1927 Plymouth, 7 metre bush poles, rusted corrugated iron, doors and windows from the Queen Victoria Hospital are only some of the creative materials used in the construction of this house. Filled with handcrafted furniture and fittings, and rustic treasures collected from 6 years of active auction hunting you will find every corner brings a new surprise. The house is comprised of 2 wings – a living wing and a sleeping wing. Perfect for those who want to talk by the open fire into the wee hours while others are ready for cuddling down to sleep. The co joining tower is a picture gallery of enchanting, old, leadlight windows.
Softly shaped rendered walls are accentuated by the contrast of triangular windows, and angles and shapes throughout the house. Numerous and varied areas throughout the house encourage a wide range of activities to maximise the enjoyment of your stay in the world famous Blue Mountains. This house will sleep up to 11 people.
Request a Sales pack, a quote, a site inspection or check availability